Employees seek for a healthy symbiosis of work, life and purpose. Agile workplace transformation can help organizations to get there.
A recent study finds that nowhere else in the world employees are as unhappy at their workplace as in Germany. Less than one in four (23%) is engaged with his or her job, while the European average lies at 41%. No doubt, employees in Germany are smart and talented, work for exciting companies, get promoted and even belong to the top earners. But, according to the same study, German employees also miss personal fulfillment and they perceive that they cannot harness their "true self" at work.
How could it get that far?
There are three main factors that fundamentally change today's work life:
Digitalization creates new business opportunities that require new and fast changing skills. Employees need to continuously learn and adjust.
Global connectivity and new collaboration tools allow employees to work independent of actual place and time.
AI and automation enable to reduce manual routine work, while focusing on more creative and innovative tasks.
This blurs the boundaries between work and private life. Employees look for personal fulfillment in their work life and a sense of purpose in what they are doing. It is crucial that personal values and values of the company truly match. Problems arise if they don't.
When employees were asked to choose between two similar jobs with the same salary they value those contracts more that offer
Flexible working hours for better work-life-balance
State-of the-art IT equipment with mobile devices
Remote work models with less facetime in the office
Traditional benefits such as company cars were ranked as least influential.
Companies need to adjust to compete in the war for talents. And it is not only about winning talents, it is also about retaining those talents long-term. Today, smart and talented people neither work to live, nor live to work – what they want is a flexible work environment that helps unleash their personal potential and creativity.
How to change? – New Work
This recent movement toward providing a workplace for the future is called New Work. It puts the needs of the employees first, aiming to create a healthy symbiosis of work, life and purpose. However, to reach this desired state, major organizational changes need to happen. They comprise flat hierarchies, flexible work models, autonomous ways of working, open communication as well as innovative technologies enabling these changes.
How to start an agile workplace transformation?
Adopting agile is a good starting point to support this workplace transformation. Agile concepts inherently provide various enablers that drive shifting your working model. In particular, you should focus on three agile enablers:
Agile leadership prioritizes people over processes. Instead of controlling progress by weekly status reports and extensive steering committees, agile leaders build trust towards employees and act as their coaches. Instead of top-down decisions, they delegate ownership as close to the operational level as possible. Taking over ownership is a step-by-step process. Start by giving teams autonomy to make daily decisions. Over time employees will be able to take more responsibility and minimize the management involvement in operative tasks. This approach will provide relief to leaders, since they get more time to focus on core business. And it makes employees happy, since they have decision-making power but are not overwhelmed by new tasks.
Agile methods – The adoption of Scrum is an easy way to practice self-organization, interdisciplinary collaboration and autonomous working. Scrum advocates self-organizing autonomous teams building products and services in a customer-centric manner, making the individual impact each team member has much more visible than alternative team setups. Moreover, empowering the teams with innovative tools (e.g. team spaces) and automated processes (e.g. automated DevOps deployment) can even increase the effect.
Agile structures – Silo structures are not made to make employees happy. In a dynamic environment, they make information sharing, collaboration and decision-making more difficult. Instead, enhance your organization's agility by setting up product-centric teams which comprise all required expertise from different departments. This does not necessary require changing organizational hierarchies. How people best collaborate should matter more than to whom they actually report. Focus on organizational flexibility and adaptability to cope with constantly changing customer and market needs. Build agile teams, expert communities and networks rather than silos.
What will you gain? – New Work Benefits
Establishing New Work is a win-win situation for both organizations and employees. Here are some benefits:
Customer satisfaction – Agile methods help building products that customers love. This is doubtless the best reward for employees which makes the job more meaningful and fulfilling.
Time-to-market – Through higher autonomy and decision-making power, agile teams work more productive and minimize time waste.
Less alignment effort – Agile ways of working reduce efforts required for alignments and meetings. People can focus on their actual work and are generally happier.
Retain talents – Agile companies are like a magnet for talents. Agile mindset and a culture of open communication encourage them to stay true to who they are at the workplace.
Technologies change people and their values. An agile workplace transformation towards New Work is inevitable to keep pace and retain talents. How to start this agile transformation depends on your current set-up and desired target state. Each company is a unique ecosystem, with its own inimitable spirit, culture and processes.
How To Accelerate Your Organization's Agile Journey?
You are right in the middle of your agile transformation or just starting? Here is how our agile assets can help you making the next step:
You want to boost your team's agile capabilities? Our neoverv Academy provides agile trainings, workshops and agile coaching.
How agile is your organization already and how are you doing compared to your industry peers? Find out with your Agile Assessment tool and receive an individual report that points out the next steps in your agile transformation.
What does it take make your organisation a truly Agile Organisation? Download our Agile Playbook and learn about all agile enablers and how to make them work for your agile transformation.
Contact me or schedule a free consultation (German / English) to discuss any specific question regarding your agile journey!
Unsere "Agile Transformation" Services
Mehr zum Thema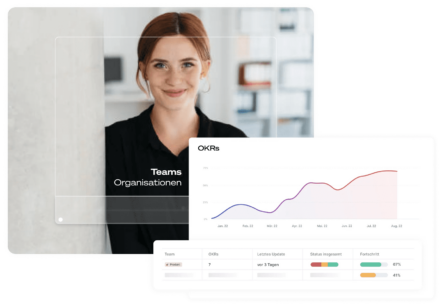 Mehr erfahren
Tech Expertin, Agile Trainerin and Change Agent mit Schwerpunkt auf digitale Strategien, agile Methoden und Tools.
Autor kontaktieren